Here are the best of some recipes I use regularly.
Chicken & Citrus Salad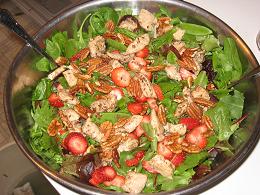 4 cups each baby spinach leaves and mixed salad greens
2 cups sliced strawberries
1 medium orange, peeled and cut into bite-sized segments
2 cups snow peas, halved
1-1/2 cups boneless skinless chicken breasts, chopped
1/2 cup pecan halves
lemon juice from 1/2 lemon
salt and pepper

Dressing:
1 tbspn red wine vinegar
3 tbspn extra virgin olive oil
2 tspn Grenadine (raspberry syrup)
1 tspn dried basil
1/2 tspn dried oregano
1/2 tspn salt
1/2 clove garlic, pressed (optional)


Mix the ingredients for the dressing and let stand so the flavours can permeate the oil. The longer the better.
Toast the pecan halves on dry medium heat for about three minutes, turn to the other side and toast for another two minutes. Don't overdo it because the taste can become bitter, and they'll continue to cook after being removed from the heat.
Fry the chicken breasts in oil, until cooked through, adding lemon juice, salt, and pepper while cooking.
Place the greens in a bowl, put on some of the dressing, and toss.
Place the fruit and nuts on top, space evenly for a nice presentation, and add more dressing
Serve immediately, while still slightly warm.

Pork Roast

I know a chef who told me the secret to making a good pork roast. I have embellished the basic recipe to the following family hit:
Pork Roast (Eye of round is a good cut)
Seasoning: 1 clove garlic, pressed, salt, pepper, paprika, thyme, and whatever else strikes your fancy
2 additional cloves of garlic, sliced in half
2 apples, cored, peeled, and sliced
2 small onions, chopped in half, then quartered.
2" stick of cinnamon and/or a dusting of cinnamon powder

Brown the roast on all sides in some oil in a cast iron frying pan. Remove the roast and deglaze the pan by adding 1/4 to 1/2 cup water. Rub the roast with your seasoning mixture on all sides. Slice into the interior of the roast with a knife and insert the four garlic halves, spaced appropriately throughout the roast. Return the roast to the pan and place onions and apples evenly around it. Add the cinnamon. Roast at 325F for 20 min/lb for rare, 25 min/lb medium, and 30 min/lb for well done. After the first 1/2 hour, remove from oven and brush the syrup that has formed all over the roast. Add an additional 1/4 cup water and repeat this kind of basting every 20 minutes until done.

When it has finished cooking, remove it from the pan. This next part is very important: Cover with aluminum foil and allow it to rest for 1/2 hour. This will allow the juices in the interior of the roast to make their way back to the surface, and the whole roast will be moist and tender. No matter what the size of the roast, 1/2 hour is required.

In the meantime, remove the cinnamon sticks, add another 1/2 cup or so of water to the pan and deglaze one last time. Pour the remaining liquid into a separate container and blend if desired. It's not necessary to add flour to make gravy; this sauce is spectacular on its own. If you want to make it thicker, use the following procedure: Melt about 1/4 cup butter by microwaving it in a mug. Stir in at least two heaping tablespoons of flour to make a roux. While stirring and gently heating the sauce (still in the cast iron pan), slowly add the roux. Add more water and roux to build up the volume, but don't overdo it or you'll dilute the flavour. I also like to grind a quite a bit of fresh pepper into it, and blend it for a light, creamy, sweet gravy.

Spicy Carrot Sticks

(From a Canadian Living cookbook in my father's possession)
6 Carrots (medium to large)
1 clove garlic, slivered
1/4 cup lemon juice
1/2 tsp paprika (i.e. Hungarian sweet)
1/4 tsp hot pepper sauce (i.e. Tabasco)
1/4 tsp ground freshly ground cumin
pinch of coriander, cinnamon, salt, and granulated sugar
1/4 cup olive oil

Trim and scrape carrots; cut to strips 1/4" x 6". In boiling salted water cook carrots and garlic until barely tender. Drain and transfer to bowl.

Dressing: Combine everything but olive oil. Pour over carrots while still warm, covering all carrots. Add more cinnamon if necessary. Sprinkle with olive oil. Refrigerate if not served immediately. Bring to room temperature before serving.

Note: I also limit the olive oil to about a tablespoon or two since this recipe seems to be a little much. Go easy on the cinnamon until you've made this recipe once.

Mom's Salsa
7-8 Ripe tomatoes
3 Red peppers
3 green peppers
1 small can green jalopeno peppers (or 4 to 6 fresh ones, at your discretion)
1/2 bunch fresh coriander (washed, stemmed, and chopped)
1 clove garlic
1 tsp vinegar
1 large Spanish onion
2 tbsp coarse (pickling) salt
1/2 tsp pepper
1/2 cup lemon juice
5-1/2oz can tomato paste
Dash of freshly ground cumin

Chop, cook (reduce) and bottle (lid on tight)

Immerse (completely) in boiling water for 20 minutes

Notes: April 2013
Make sure the tomatoes are the best, and really ripe. Puree them and have them boiling down while you do the rest of the chopping.
Don't put the coriander in until everything else is cooked and you're just about to bottle.
Two cans of tomato paste makes it thicker, which is better than overcooking the peppers

Notes: March 1996 -- add 1/2 bunch fresh coriander, leave out cumin; 6 jalepenos is good, 9 makes it hot

Hummus
1 can (19oz) or 2 cups cooked chick peas (reserve the juice from the can)
2/3 cup Tahini
3/4 cup lemon juice (juice from 1 to 2 lemons)
2 cloves garlic, pressed
1/4 cup olives
1 teaspoon salt

Blend everything in a food processor or blender

Add reserved chick pea juice while blending until desired consistency is reached

Notes:

Go easy on the lemon juice until you've made it a few times. I use only 1 lemon

Go easy on the salt. I use 1/2 tsp salt and pickled pizza olives, and tell myself they contain the missing salt.

Greek Salad
1 seedless cucumber
5 tomatoes
1/2 red onion, chopped
1/2 cup olive oil
2 tbsp lemon juice or red wine vinegar
1/4 tsp salt
1/4 tsp coarsely ground black pepper
1-1/2 cups feta cheese, coarsely crumbled
2 tsp dried oregano leaves
1 cup black olives

Peel cucumber and cut into 3/4 inch chunks. Combine with tomatoes cut into similar size pieces and chopped onion. Combine olive oil, lemon juice, salt and pepper; whisk until blended. Pour over vegetables; toss to coat. Sprinkle with feta cheese, oregano and olives. Makes 6 servings.

Marshmallow
2 pkgs unflavoured gelatin
2 cups sugar
1 tsp vanilla
pinch of salt
1/2 cup unsalted peanuts
shredded coconut

Mix gelatin in 7/8 cup cold water, and set aside

In a heavy pot, mix 7/8 cup water with sugar

Boil until threads appear when dripped from a metal spoon (soft ball stage on a candy thermometer)

Add gelatin mixture, stir, and remove from heat

After 5 or 10 minutes, add to a mixing bowl with vanilla and salt

Beat until like whipped cream

Sprinkle coconut on bottom of 9"x9" baking dish

Mix in peanuts, and pour into pan

Sprinkle more coconut on top, and let set overnight

Notes: If the mixture is too warm the peanuts will sink to the bottom before it sets

Any high-sided pan is okay, but you'll be slicing the marshmallows; a non-stick surface could be damaged by a metal knife if you're not careful

Slice into substantial 2" cubes

Beef Jerky

Marinade:
1 cup soya sauce
1/3 cup brown sugar
Juice of 1 lemon
1 tbsp (or more) fresh ginger, grated
1 clove garlic, pressed
1 tsp cayenne pepper
5 small hot peppers, dried and chopped (Fresh might be better, but I never happened to have any)
1 kg lean beef (eye of round roast or round steak is good)

Remove as much fat as possible, since fat will not dry and will turn rancid after awhile. Slice along the grain no larger than 1/4" thick (1/8" is best). Marinade for a minimum of 3 hours; I usually marinade it overnight. Dry in food dehydrator until beef cracks when bent (about 8 hours). Store refrigerated, up to 3 weeks (if you don't eat it all sooner! Mmmm!).

Notes: January 26, 2002 -- Used flank steak instead of eye of round. It's more expensive but easier to slice. Saves time. Used 1-1/2 tablespoons of chili flakes instead of the 5 hot peppers. Result was mild to medium hot. Recommend using much more ginger; it's a key ingredient.

Winter Spinach Salad
1 bag (284g) fresh spinach, rinsed, dried, and de-boned
6 strips of bacon, chopped and cooked
2 tbsp bacon fat
1/2 cup salsa
2 tbsp lemon juice
pepper to taste

Mix bacon, fat, salsa, lemon juice, and pepper, and heat until warmed through. Pour this over the spinach and toss gently. Serve immediately.

Biscuits

Very easy, very fast.
1-3/4 cup flour
1/2 tsp salt
1 tbsp baking powder
4-6 tbsp chilled butter
3/4 cup milk

Mix the dry ingredients and cut in the butter using a pastry knife. Make a well and add the milk. Knead gently, folding six or eight times. Turn onto a lightly floured counter and roll out to about 1/4" thickness. Cut 18 to 24 disks using a cookie cutter. Brush tops with butter and bake (on a stone, if possible) at 450F for 12 to 15 minutes.

Dill Pickle Dip
250 ml sour cream
250 ml cream cheese
1/4 to 1/2 tsp fresh ground black pepper
1/8 to 1/4 tsp cayenne pepper (1/4 is quite hot!)
1/4 cup or more fresh dill, finely chopped
One medium sized dill pickle, finely diced

Gently heat sour cream and cream cheese in microwave to soften the cream cheese.
Add spices and blend with electric hand mixer.
Add dill, and blend until cream starts to turn green (i.e. don't overdo it)
Stir in dill pickle by hand, pour into serving dish(es), and chill for several hours for best taste and texture.

Pizza Dough

I make this almost every Sunday afternoon. I don't think any of the measurements are critical, but these proportions seem to work. Call me before 3pm if you want to join us and I'll double the recipe:
2 cups flour
2 tsp sugar
1/2 tsp salt
2-1/4 tsp yeast
2/3 cup very warm water
2 tbsp olive oil

In a mixing bowl, dissolve 1 tsp sugar in the water, and sprinkle the yeast into it. Let stand for 10 minutes while you're measuring the other ingredients. Add the oil to the yeast mixture.

Mix the flour, salt, and remaining sugar, and vigorously stir about 80% of it into the yeast mixture. If you stir quickly it will mix better. After that, knead by hand and slowly add flour until the dough doesn't accept more, but don't overdo it or your crust will be a bit dry. Remove it from the bowl, clean the bowl and grease it with more oil. Let it rise in a warm place until doubled in bulk (3/4 to 1 hour). I let it rise in the microwave oven with a cup of boiled water sitting next to the bowl. Punch it down, knead a little bit, and let it rise again.

Spread flour onto a flat surface (not your windows, silly. Use your head!) and gently roll the dough into a circular pizza crust. Fold in half, again into quarter, and gently lift it onto a greased pizza pan and unfold. Add your favourite toppings and brush or spray a bit of oil onto the exposed dough to keep it from burning. Bake at 475F for 12 to 15 minutes, until toppings are cooked and crust is a golden brown.